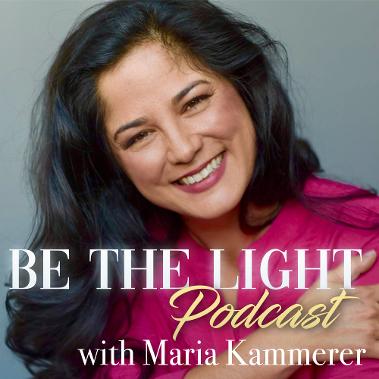 Welcome to, Be the Light podcast. This podcast is about building a positive momentum of change and healing by shining the light on teachers and wisdom so that we can be inspired to be the Light in our own life.
Many people are looking for ways to be happier and have more peace. We are all meant to find our purpose and shine our light into the world. We are being called to bring healing, light, and the goodness that is in all of us deeper into our lives. Our world needs us, and it is time to listen.
Hosted by Maria Kammerer, Professional Reiki Teacher/ Practitioner with over 16 years of experience in supporting people in healing. We will be sharing wisdom, teachings, meditations, happiness life hacks and wonderful moments with you. This is an invitation to find different teachers or practices that may resonate with you to help you to grow and expand your inner light.
Gratitude
Huge appreciation goes out to Max Raphael at True Resonance for being all around musical genius for this project and sound engineer. His musical intellect and healing sounds create that sacred space within the podcasts that help resonate these powerful messages. Please check out his work at www.trueresonance.net.

So grateful for my tribe for the continued encouragement, love and support without them this project would not have happened. So blessed and thankful to all the bright lights that have been a part of this offering of love and wisdom. A special thank you to the incredible teachers for sharing their time, wisdom and inspiration. We are so blessed to be alive during this time and to be able to offer and share these gifts with you.

Photo credits go to Lucia Harmon, Max Raphael,Sarah Dailey and Kent Pilcher.
We need positive things to focus on. It helps remind us of the good that is in the world and keeps us on a momentum of happiness.
This introduction into the podcast series: Be the light by your host Maria Kammerer. She extends an invitation to listen deeply. To focus on your peace that is always present in you, ending with a guided meditation.
Reiki has been that way of healing for me. Reiki, translated means spiritual energy, it is a system that helps us to let go of anger and worry and uncovers our peace and wholeness. In my direct experience the system of Reiki is a path of transformation – it opens us up to the knowing that in each of us is: true-self, wisdom, light, compassion, and healing. Reiki allows us to heal ourselves, and through each of us, we can be part of healing the world.
There has been a lot of expansion on this journey. Let us continue to Be the Light for others; and listen to the teachings of current spiritual leaders and practitioners; expanding and cultivating the power of Healing, Light, and Peace that is our true nature.
A conversation with Sister Insight, a monastic, Dharma teacher and student of Thich Nhat Hanh at Plum Village Mindfulness Center in the South of France. She shines the light on the many benefits of being conscious of our breath and shares a simple Mindful breathing practice.
This conversation was recorded on location at Plum Village Mindfulness Center. We are so grateful to Sr. Insight for her beautiful sharing of the importance of mindful breathing. If you want to find out more about Plum Village and Mindfulness practice visit their website www.Plumvillage.org.
Beginning Anew: a conversation with Sister Rising Sun
Sister Rising Sun is a monastic, a Dharma Teacher and student of Thich Nhat Hahn at Plum Village Mindfulness Center. Sister Rising Sun shares the practice of repairing our relationship with ourselves and others called beginning anew. She reminds us we have an opportunity to look deeply at ourselves, our habits and relationships with a fresh perspective.
This conversation was recorded on location at Plum Village Mindfulness Center in the south of France. Gratitude to Plum Village, to the Sangha, to Thich Nhat Hahn and for Sr. Rising Sun sharing her beautiful wisdom and peace with us. If you want to find out more about Plum Village and Mindfulness practice, visit their website https://plumvillage.org
All writing and information on this website is protected by © Copyright 2007 Maria Kammerer, Attune: The Art of Reiki LLC